If you follow my stories on Instagram, you may know that I finally spent two whole weeks in my beloved Japan. This was my 5th time in Japan, so I decided not to follow the usual too-much-touristy routes, but discover a bit the north of Japan.
Why the North of Japan?
The northern region isn't unknown to me. Actually, I have already visited Akita prefecture and Fukushima prefecture in 2015, when I was living in Japan, and I've fallen in love this region. Good food, kind people, stunning views. The North is wide and still full of new places ready to be discovered, and the idea that just 1% of the tourism in Japan goes up there was quite tempting. Plus, I really needed to take a break from the daily stress.
Why an onsen in Aomori prefecture, then?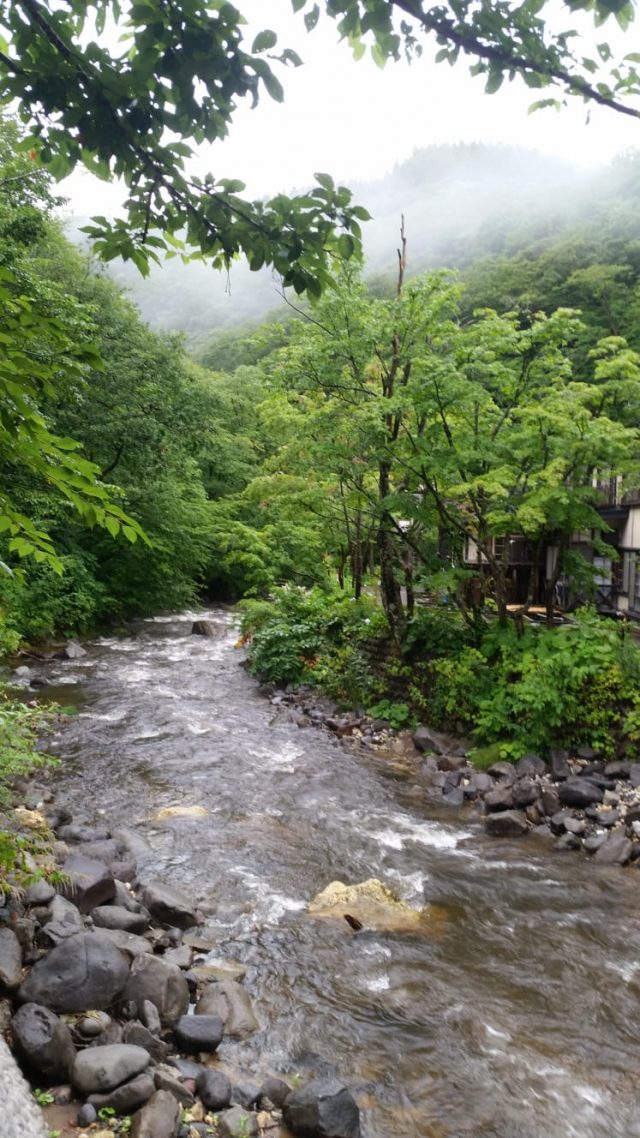 That said, a two-days experience in a onsen (Japanese hot spring) in Aomori prefecture, the northern prefecture of the Honshu, the Japanese main island, sounded perfect to start a wonderful adventure in the Land of the Rising Sun.
As you know, Japan is a vulcunic land and natural it's very common to find hot springs. Even if all the onsen you'll find in Japan are very nice and worth a visit, I've read that the hot springs in the north are still the more pristine. So, after having surfed the net, I found Aoni Onsen, an onsen ryokan literally in the middle of nowhere.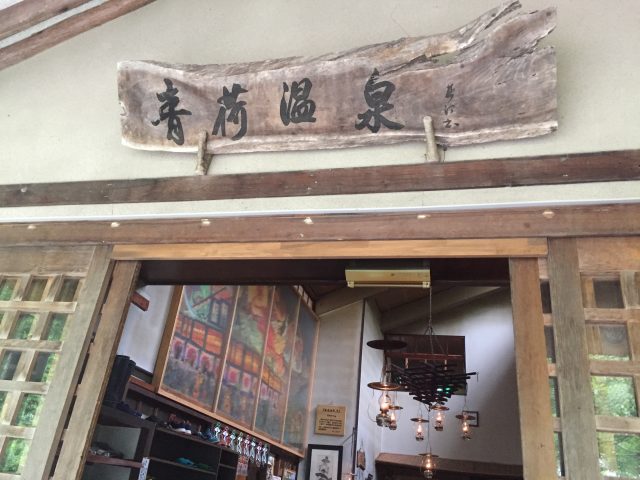 AONI ONSEN– LAMP NO YADO
Aoni Onsen is a small and Japanese-style ryokan. It's located in the heart of Aomori Prefecture, near the little city of Kuroishi, famous for its Kokeshi (handamade Japanese dolls from wood). It's in a secluded area, surrounded just by woods, mountains and streams. It's  also friendly known as Lamp no Yado (ランプの宿・"The Inn of the Lamps"), and in few mins I'll explain you why.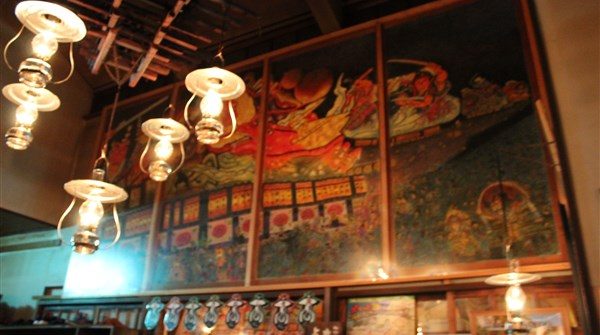 It has fascinated me as much as it deserves a full post here on my blog. In addiction, on the web I couldn't find so much info in English or in other Western languages, so I hope it could be helpful for everyone who'd like to visit this place!
THE INN OF THE LAMPS
Aoni Onsen includes a main building with some guest rooms, public toilets, dining room and a souvenirs shop, and other annex buildings with other guest rooms. The place is located near a stream and a beautiful waterfall and the water there is thermal and warm.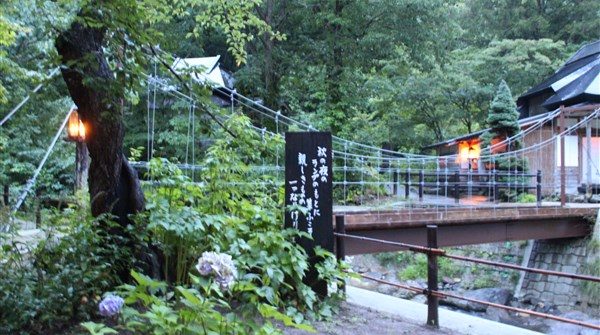 My room was in the main building in a pure Japanese style, with tatami, futon and paper windows, right next to the stream.
But why is it friendly called "The Inn of the Lamps"?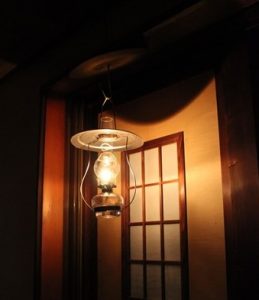 As the area hasn't access to electricity, the inn still uses kerosene lamps, which gives to the place that something… magical. Everywhere, the smell of the kerosene, the yellow and dim light of the lamps give to the inn a very relaxing touch.
Here, there is no signal, so switch your mobile phone and laptop off and be ready to immerse yourself in the real relaxing Japan. What you need is just the yukata (a light kimono) the inn provides to you and two towels!
THE ONSEN
Aoni Onsen has four hot springs with thermal water, naturally warm: three of them are inside and divided by gender, while one is a rotenburo, a mixed open-air bath.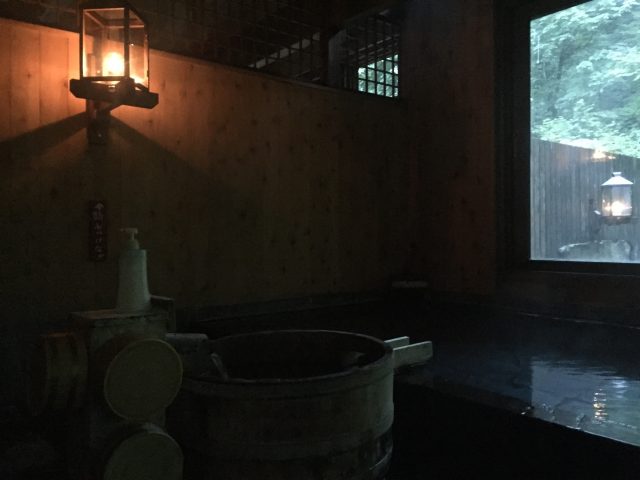 Honkan-nai yu (本館内湯)is located inside the main building and it's completely made of cypress' wood. It's separated by genders.
Kenroku no yu(健六の湯) is the biggest bath of the complex, in front of the main building. Geneders are separeted, but, here women have also a little open-air bath, as a plus. The water is extremely hot in Kenroku no yu!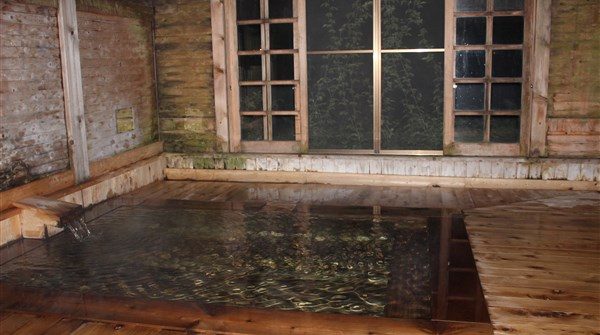 Takimi no yu (滝見の湯)was absolutely my favourite. Made with rocks and separated by genders, it has also an open-air bath directly in front of a small waterfall, for both the genders. Believe me, it's so relaxing hearing the sound of waterfall while immersed in the warm water!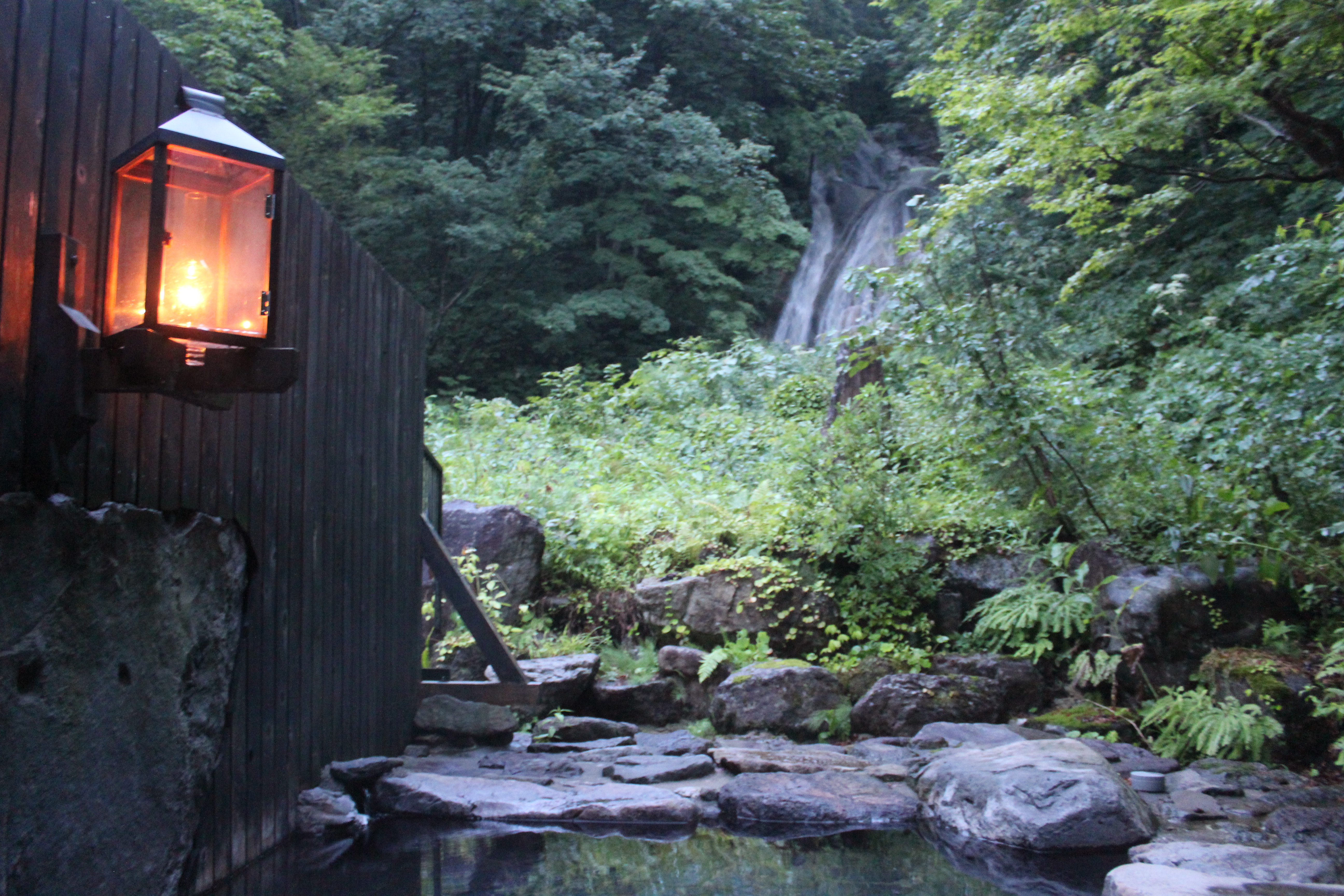 Finally, Rotenburo (露天風呂)is the only mixed hot spring. It's quite big and open-air and the water is pleasantly warm. It's reserved to women only two times a day.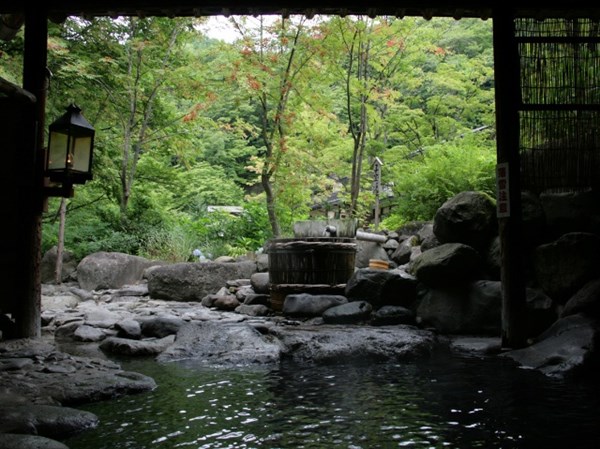 Takimi no yu and Rotenburo are located opposite to the main building, on the left side of the stream. You've to cross a short bridge (and wear a pair of so-Japanese orrible slippers!) to reach them. 
The inn hasn't too much rooms. So, I could enjoy all the hot springs almost alone, like I was in a private onsen.
DINNER AND BREAKFAST
As it's normal in Japanese ryokan,  dinner and breakfast (Japanese style, of course!) are included in the price.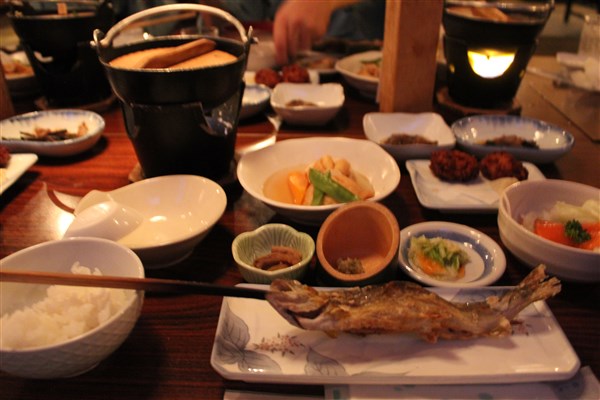 Dinner was from 6 pm to 8 pm and it consisted of several small plates of fresh mountains vegetables, fresh grilled fish, nabe (hot pot), miso soup and plain rice. Breakfast was not so different, but this time nabe came with egg. They're served in a tatami room, at a long table together with the other guests. In my case, all the other guests were Japanese and I could talk a bit in Japanese with them. Indeed, it seems that here Japanese tourism is wider then foreign one. That's why everything is written only in Japanese (and Aomori dialect). No English, no Roma-ji (Latin script).
HOW CAN I GET THERE? 
I've to admit that getting there is kinda complicated, especially if you're travelling by public transports, as I did. The easiest and most convenient is undoubtedly by car, but it doesn't mean that it's impossible go there by train/bus. It takes just a lot of time!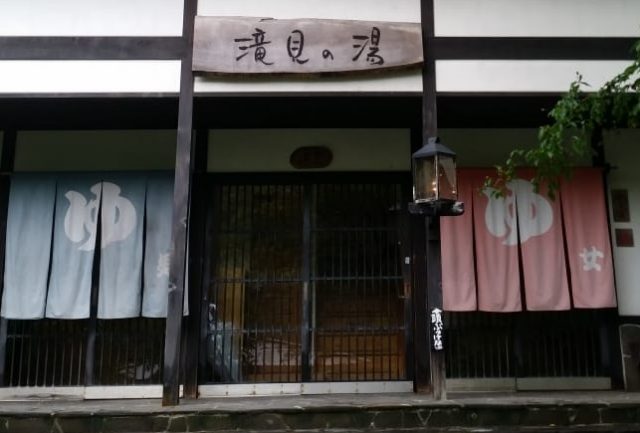 First step: From the city to the apple orchards
I took a Shinkansen from the Tokyo Station to Morioka station, where I quickly jumped off to another Shinkansen bound to Shin-Aomori station. After about 2 hours, I finally arrived at the station, where I caught a JR rapid train bound to Hirosaki station. The trains took an hour to reach the (quite) small city, known for its delicious apples.
Second step: Let's the adventure in the countryside begin!
At Hirosaki station I switched to a private railway, the Kōnan Line, where a very old only-two-cars train took me to Kuroishi station. The local train goes through the real Japanese countryside: rice fields, rice fields and, again, rice fields spotted here and there by few houses. This train also stops at "Tanbo Āto" station (in Inakadate city), famous for the rice paddy art.
Third step: Buses
At Kuroishi station, I caught a local bus to Niji-no-ko, where my shuttle bus* to the onsen was waiting for me. A narrow path up on the mountains and then down in the middle of the nowhere wood.
*Aoni Onsen arranges upon prior booking two shuttle buses, at 3 pm and 4 pm in Summer, and at 2 pm and 3 pm in Winter.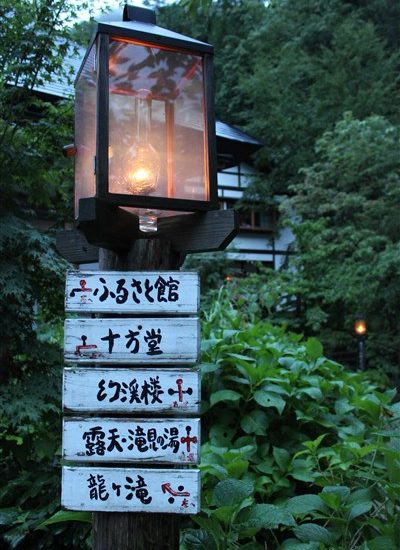 I love the north of Japan and I've to admit that I loved Aoni Onsen so much too. It's a perfect place to take some time to relax yourself and to take a break from the everyday life. Unfortunately, during my stay there it was raining cats and dogs, but it seemed to be in a Miyazaki's movie! I could imagine how magic and beautiful could be this place in autumn and, especially, in winter! I must come back there when it snows!