(This article is also available in 日本語)
Spaghetti alla Carbonara: one of the most famous traditional Italian recipe, cooked all over the world. A failsafe classic, loved by everyone, especially by children.
Today, during the Carbonara Day, I want to launch a new section in my blog: the Food section. Here, I'd like to share you guys some of my favourite Italian (but not only) recipes, to promote all the yummy shades of my beautiful Country, as well as our beautiful world.
Why food in a Travel Blog?
Because Travel, for me, is not only discovering new places, but also enjoying and tasting new cultures. So, what's better than a plate of some traditional and authentic food? Also, well, I'm Italian, and I do love food. Especially, real Italian food.
So, let's start with a simple recipe: Carbonara!
I'm not a food blogger, neither a chef, but I do love Pasta. And, one of my favorite is exactly Spaghetti alla Carbonara. However, I've eaten Carbonara when I was living in Japan and I've unfortunately discovered that, sometimes, this recipe is misundestood. For example, I've seen some people adding cream or milk to eggs to recreate that creamy texture or letting the eggs become scrumbled.
But I swear that the original recipe is far easy and you'll have a creamy texture with few simple ingredients!
So, let's start cooking the authentic Spaghetti alla Carbonara!
Ingredients for 2 people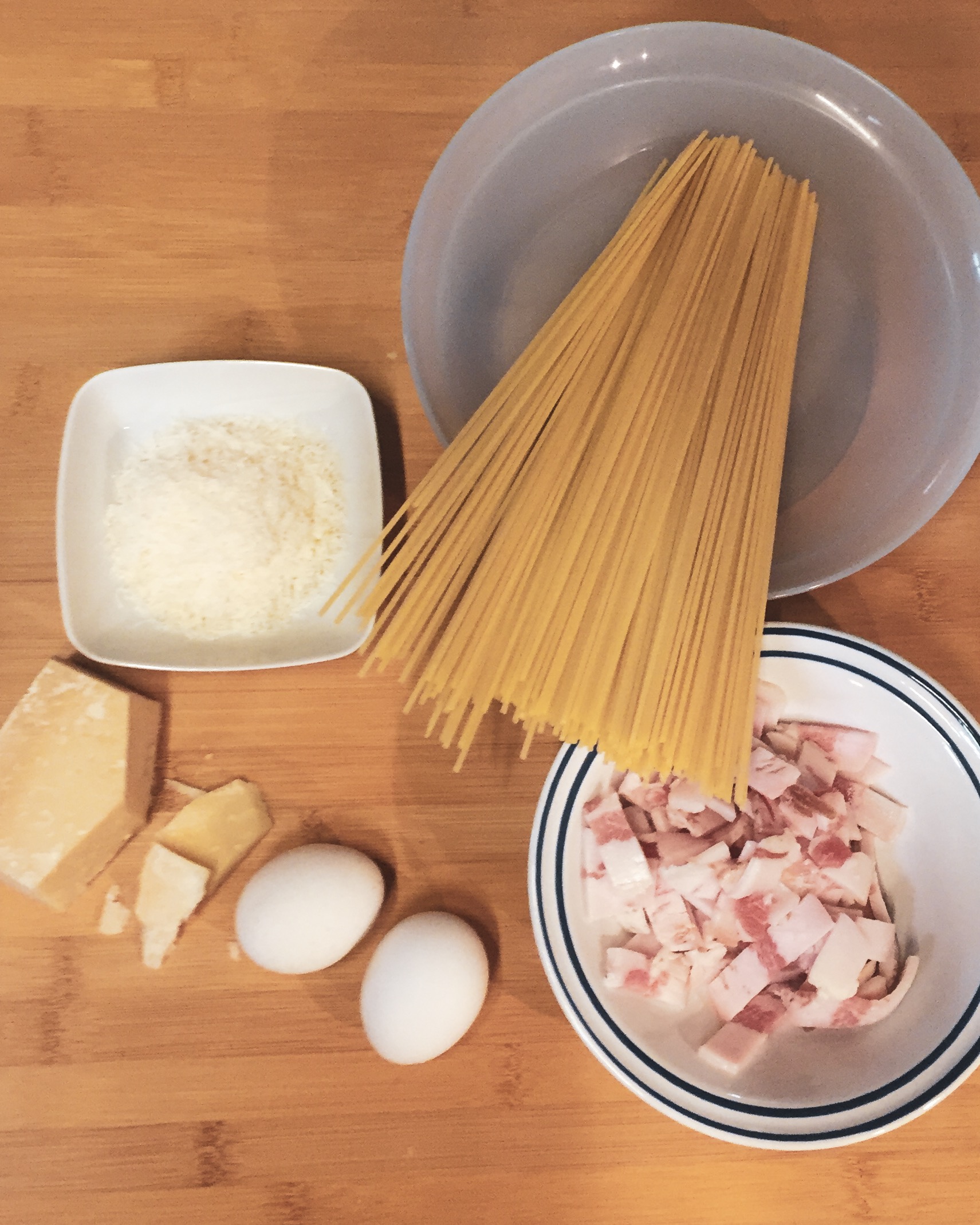 180 gr of Spaghetti or Spaghettoni
2 Eggs
25 gr of Cheek Lard (variation: bacon)
30 gr of Pecorino Cheese (variation: Parmesan)
1 tbsp olive oil
Salt q.s.
Black pepper q.s.
Ready in 30 minuti.
Difficulty: Super easy
PREPARE THE CHEEK LARD

Pour a bit of olive oil in a fry pan and let it heat up.

BROWN THE CHEEK LARD

Put the cheek lard into the fry pan and brown it.

BOIL THE WATER FOR THE SPAGHETTI

Pour some water in a pot and let it boil.
When the water is boiling, add an handful of salt.

PLUNGE THE SPAGHETTI

Then, add the spaghetti and let them cook for about 10 minutes (see the instructions written on the package).
Don't break the Spaghetti! Just place them as in the picture.


BREAK THE EGGS

In the meanwhile, let's prepare the egg cream. In a bowl, breake 1 whole egg and 1 yolk.

PREPARE THE EGG CREAM

Beat the eggs until they form a cream.
Then, add the grated Pecorino cheese and mix well.
If you like, you can also add a bit of salt.

ADD THE CHEEK LARD TO THE EGGS

When complitely browned, add the cheek lard in to the bowl with the eggs and the Pecorino cheese. Stir very well.

DRAIN THE SPAGHETTI AND PLUNGE THEM INTO THE CREAM

When the spaghetti are ready, drain them very well. Then, plunge them into the egg cream. Stir very well.

AND IT'S DONE!

Sprinkle with Black pepper and, if you like, with Pecorino cheese (or Parmesan).
Buon Appetito!
Easy, right? Just few simple ingredients and you'll can enjoy a true Italian flavour in less then half an hour!
Are you vegetarian?
If you do not like Cheek Lard or bacon or if you are vegetarian, you can substitute meet for zucchini. You have just to dice them and then blanch in boiling water. Thereafter, add the zucchini to the egg cream. The result is still delicious!
---
Let me know if you liked this recipe and if you like Spaghetti alla Carbonara!